From chic whiskey barrel designs to faux stone and wood, our eye-catching range of decorative rain barrels brings tasteful elegance to any yard or garden.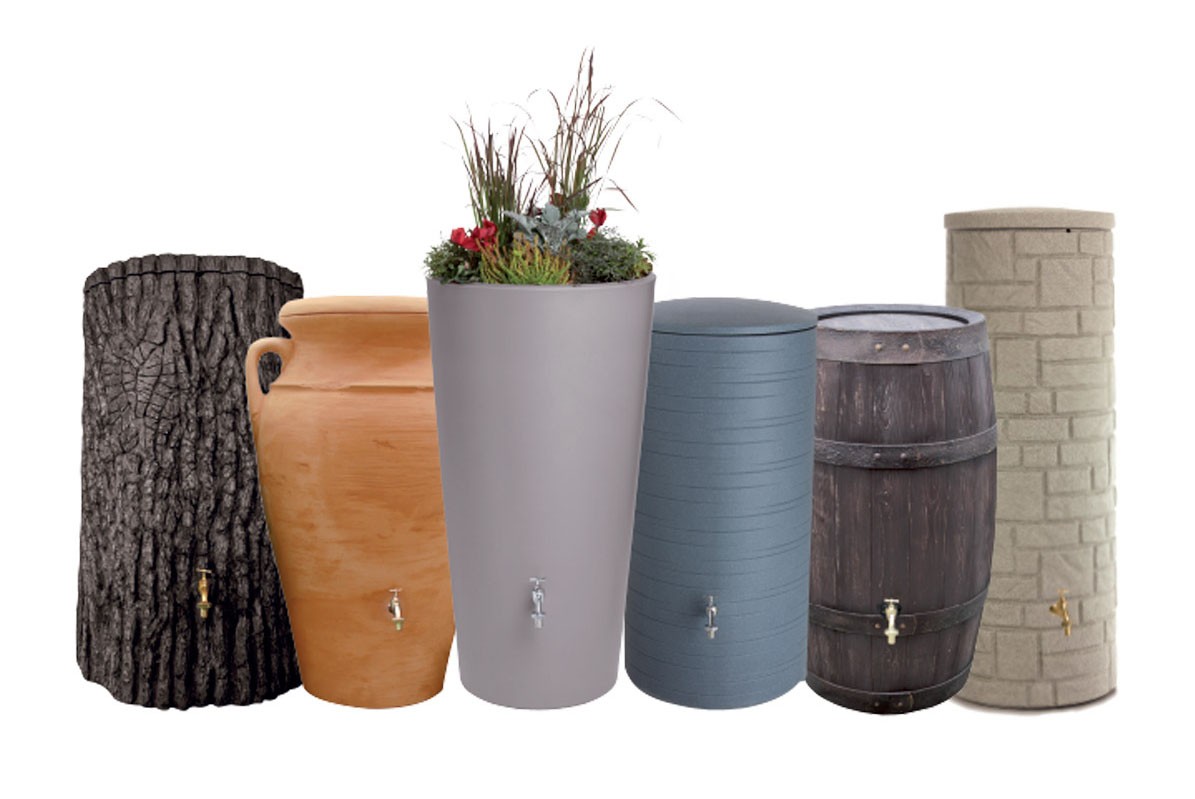 Image
Reduces drinking water use
100% recyclable polyethylene
Built to last
Image
Tasteful colours
Stylish shapes
Seamless integration
Image
UV and weather resistant
Flexible water outlet
Childproof lid
What is a decorative rain barrel?
Decorative rain barrels collect and store water from gutter downspouts. The rainwater they store can be used to nourish lawns, gardens, and flowerbeds, and to fill ponds, fountains, and other water features.
Our artfully designed rain barrels come in a range of colours, styles, and textures. Available with or without a spigot, they safely store up to 500 L of rainwater and make it easy to combine the capacities of multiple tanks.
Installation is fast and simple. As your rain barrel fills, you get complete control over your watering schedule — even during dry spells. Shower your plants with soft, natural rainwater day or night, and see the difference in the green spaces you love.
Where are our decorative rain barrels used?
The Arvès decorative rain barrel is most often a solution for:
primary residences
seasonal cottages
campgrounds and parks
small commercial buildings
How do our decorative rain barrels work?
Rain barrels work by catching and storing rainwater that flows from the roof of your house, garage, or shed. The process is simple:
Water hits the roof.
It runs into gutters or drains connected to a downspout.
It flows through the downspout into the rain barrel.
 
Using collected water is easy thanks to our pre-drilled brass connection in each tank. Attach a spigot to fill watering cans, or use our connection kit to combine the capacities of multiple tanks.
To keep dirt and other debris out of your tank, we recommend that you add one of our downspout filters to your system. These coarse or fine screens are fast to clean and ensure that only fresh water reaches your rain barrel.
Modena
Smooth square rain barrel
200 L capacity
100 cm high
Built-in flower pot
Rainbowl
Smooth round rain barrel
210 L capacity
110 cm high
Detachable lid
Rainbowl flower
Flower planter rain barrel
150 L capacity
110 cm high
Built-in flower pot
Barrique
Faux whiskey rain barrel
250 L capacity
105 cm high
Detachable lid
Burgund
Faux whiskey rain barrel
500 L capacity
118 cm high
Detachable lid
Little tree
Tree stump rain barrel
250 L capacity
105 cm high
Detachable lid
Evergreen
Wood log rain barrel
475 L capacity
120 cm high
Detachable lid
Evergreen lite
Tree bark rain barrel
300 L capacity
120 cm high
Detachable lid
Norway
Wood slat rain barrel
230 L capacity
130 cm high
Fixed lid
Rustico
Wood-look rain barrel
275 L capacity
100 cm high
Detachable lid
Novara
Textured round rain barrel
280 L capacity
117 cm high
Detachable lid
Helena
Terracotta-look rain barrel
300 L capacity
120 cm high
Detachable lid
Alana
Flower planter rain barrel
160 L capacity
116 cm high
Built-in flower pot
Trentino
Tuscany-inspired rain barrel
275 L capacity
100 cm high
Detachable lid
Noblesse
Smooth rectangular rain barrel
275 L capacity
105 cm high
Detachable lid
Concrete
Textured rectangular rain barrel
200 L capacity
105 cm high
Fixed lid
Arcado
Brick round rain barrel
230 to 460 L capacity
105 to 200 cm high
Detachable lid
Maurano
Brick wall rain barrel
300 L capacity
118 cm high
Detachable lid
Multitank
Rock wall rain barrel
250 L capacity
105 cm high
Fixed lid