Made with durable polyethylene and pre-assembled with all the components you need, the Rewatec pump station is the hands-down choice to reliably move wastewater downstream.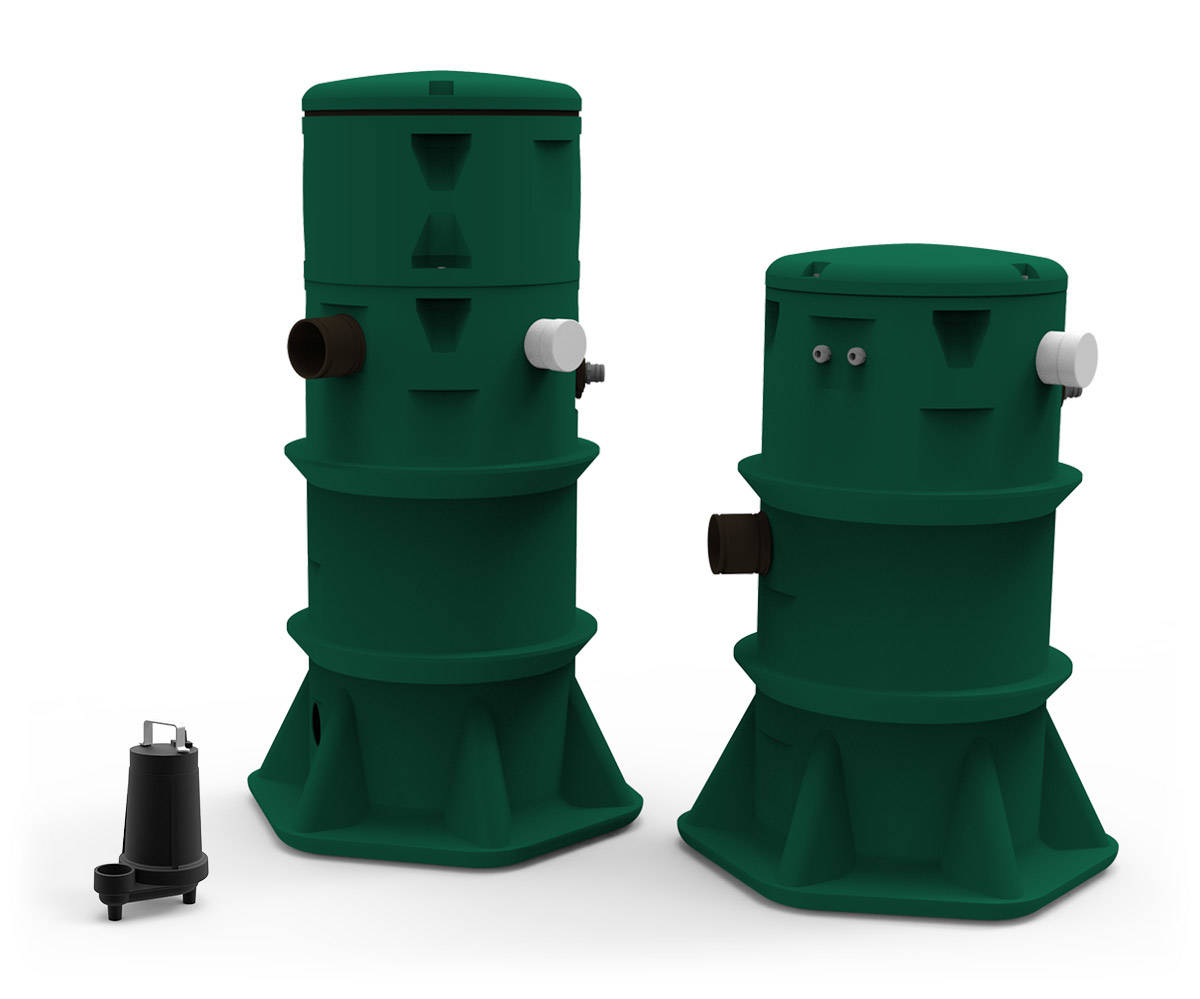 What is a pump station?
A pump station (also known as a lifting station) regulates flow and provides extra pressure when gravity alone cannot force wastewater downstream.
With nominal capacities up to 50,000 L, the Rewatec wastewater pump station is ideal for a full range of residential, commercial, and municipal projects.
We manufacture all models with durable polyethylene and pre-assemble every system with all the accessories you need, including submersible effluent pumps, alarms, floats, and electrical junction boxes.
Where are our pump stations used?
The Rewatec wastewater pump station is most often a solution for:
homes and cottages
residential and municipal developments
office buildings
schools
campgrounds and parks
restaurants
gas stations
wineries and microbreweries
How do our pump stations work for homes and cottages?
Our residential pump stations collect wastewater and then reliably transport it downstream for treatment or final dispersal. They can be installed at any point of an on-site treatment train.
Each pump station has an on/off float that moves up and down as wastewater levels change inside the tank. When the float rises to a predetermined level, an integrated effluent pump begins to run. This pump lifts wastewater through a pressurized pipe, then discharges it with enough force to reach the next portion of the septic system.
After the pump station discharges wastewater, the on/off float moves down with the falling water level and the pump stops running.
 
How do our pump stations work for businesses and communities?
Our large-scale pump stations are specifically designed for the rigours of commercial, community, municipal, and industrial wastewater treatment projects.
All models feature an alternating dual-pump sequence for maximum reliability, and a control panel that gives you complete command over pump operations.
In addition to lifting wastewater, these solutions can be used as equalization tanks to dose and regulate flow to downstream components. This unique feature reduces the overall size of the treatment train and protects the system from shocks caused by hydraulic fluctuations.
Find near you
Choose your local website to discover Rewatec pump station products and services near you.