Case study: Rainwater to flush toilets in a green building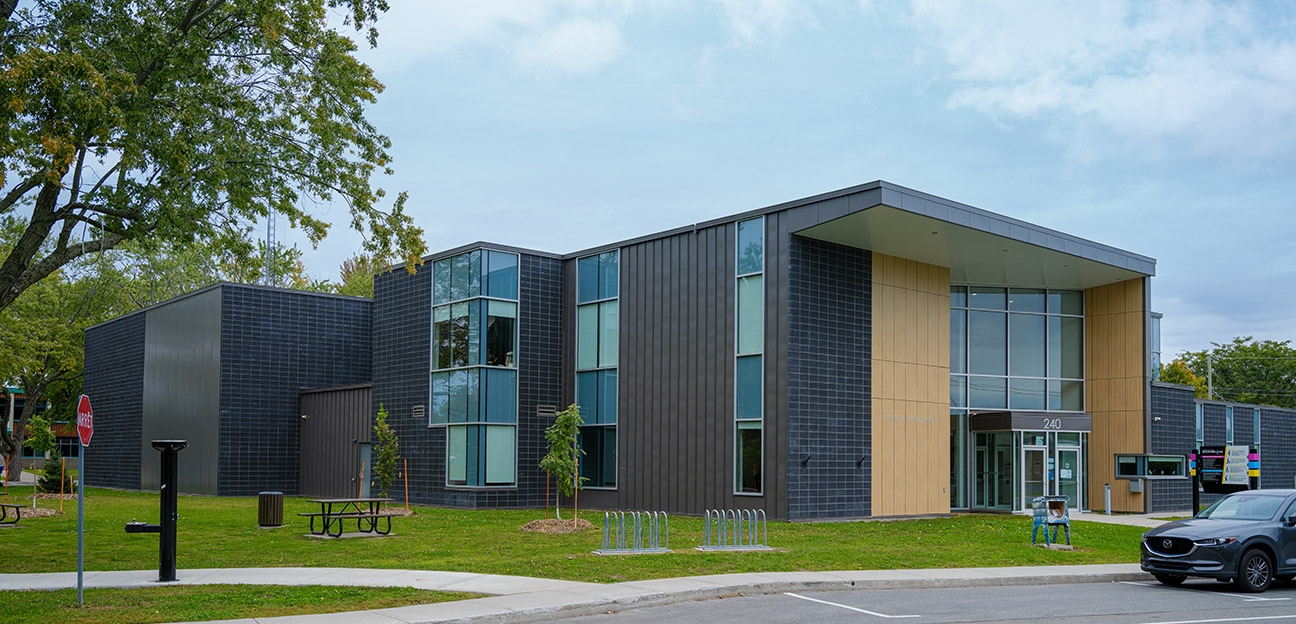 Project
Rain harvester for public building
Québec, Canada
Installed in 2016

Challenges
Water storage capacity
Optimal pressure for 17 toilets
Ability to switch water sources

Solutions
Rewatec rainwater harvester
Kit for indoor use
Rewatec underground water tank
To meet the growing needs of its residents, the City of Beloeil in Québec constructed a new leisure centre that matched its sustainable vision for the future.
The City's plans for the green building included a rainwater harvesting system to supply 17 toilets and two urinals. This water-conservation strategy would slash the facility's consumption of potable water by up to 70%.
 
The challenges of rooftop rainwater harvesting systems
In Canada, municipal buildings like gyms, libraries, and schools pose some unique challenges for water harvesting systems.
 
Water quality
Any amount of rainfall carries leaves, insects, and grit as it flows from roof surfaces. To prevent clogs, these materials must be screened before rainwater reaches the storage tank.
 
Rainwater tanks must have a circulation system to keep water fresh. They also need tightly sealing gaskets and, in some cases, fine screens that keep mosquitos from laying eggs in the water.
 
Before rainwater is used, it must be filtered one last time to remove any small particles. This step prevents system blockages and maximizes the lifespan of plumbing fixtures and building systems.
 
Water storage capacity
For a rainwater collection system to be effective, the project's designer must calculate the ideal capacity of the water storage tank.
 
The calculation depends on a few factors, such as:
 
annual rainfall
rainwater catchment area
intended uses for rainwater
number of people in the building
amount of water to be used
 
Water pressure
Municipal properties often have many toilets and urinals on different building levels. This makes gravity-fed rainwater harvesters impractical.
 
In most cases, a reliable and powerful pump system is needed to supply the fixtures in large buildings with optimal pressure.
 
Water reliability
Indoor fixtures like toilets and urinals need a reliable source of water for flushing.
 
Most rainwater harvesters meet this need under normal conditions. But during dry seasons and periods of drought, their supplies of stored water may run out.
 
Collection systems must recognize when the storage tank is empty and switch to another source of domestic water. Most often, the fallback water source is municipal or well water.
Our rainwater harvesting solutions for public buildings
The Lambda-Lainco consortium led the design of this project.
After careful study, its experts chose the Rewatec rainwater harvesting system with Premier Tech's proven technologies and support.
The system collects rainwater from a flat roof area of 1,850 m2. Harvested rainwater is then stored in an underground tank with a capacity of 17,000 L.
Flat-roof drain
Rainwater falls on the building's roof and flows into a drain.
The drain has a filter that prevents leaves, insects, and other debris from entering the system.
Partially clarified rainwater then passes through a hidden pipe that leads to a filtration chamber.
Filtration chamber
After primary filtration, rainwater flows through a filtration chamber.
The filter removes small particles to protect system components and maximize the lifespan of the building's plumbing fixtures.
Rewatec underground rainwater storage tank
After secondary filtration, rainwater flows into an underground water tank (also known as an underground cistern).
The high capacity of the tank allows for long periods of water autonomy, even during dry seasons and droughts.
During a downpour, excess rainwater flows into an infiltration well.
Infiltration well
The infiltration well receives rainwater when the storage tank is full.
The well includes a layer of clean crushed stone that allows rainwater to slowly percolate through the site's soil.
By controlling the flow of excess rainwater, this simple system eliminates the risk of backups and prevents flooding.
Pump and water pressure tank
A centrifugal pump draws rainwater from the storage tank and discharges it into a pressure tank.
This system provides optimal and constant pressure to reliably supply the building's toilets and urinals with rainwater.
Solenoid valve
Pressurized rainwater flows through a solenoid valve before it reaches its destination.
The valve is fitted with a fine-mesh filter, a backflow prevention device, and a water meter to measure rainwater consumption.
When rainwater reaches the minimum level in the storage tank, a float sends a signal to the solenoid valve. The valve then automatically supplies the building with municipal water.
"We are thrilled with Premier Tech's rainwater harvester. It is simple to use and easy to maintain. Best of all, it helps us use 70% less drinking water!"
 
Daniel Marineau
Director of Recreation, Culture, and Community Life
City of Beloeil
Our results for the City of Beloeil
In 2018, an independent research group studied the Beloeil Leisure Centre's rainwater harvesting system. The group focused on two areas: rainwater quality and the total reduction in drinking water consumption.
 
Rainwater quality
Researchers sampled the network that supplies rainwater to the building's toilets and urinals. The sample was then studied to determine the overall quality of the rainwater.
The analysis showed:
Turbidity = 2.2 NTU
Suspended materials = 3 mg/L
Dissolved solids = 103 mg/L
 
These values show that the rainwater harvester's filtration systems are highly effective. By removing small particles, they provide clean (but non-potable) water that poses no risk to the building's toilets or urinals.
 
Drinking water savings
Researchers installed ultrasonic flow meters on the pipes that supply potable water or rainwater to the building. Flow-rate data was then studied to find out how much drinking water the Leisure Centre was saving.
During the test period, researchers found that the building used just over 13,000 L of water. As expected, almost 70% of that water was supplied by the rainwater harvesting system.
 
Choose our expertise for your project
Our rainwater harvesters help you use water wisely and reduce your water bill. Contact our team today to discover how we can make a difference for your residential, commercial, or municipal property.
 
---