Case study: How we replaced a failing camp septic system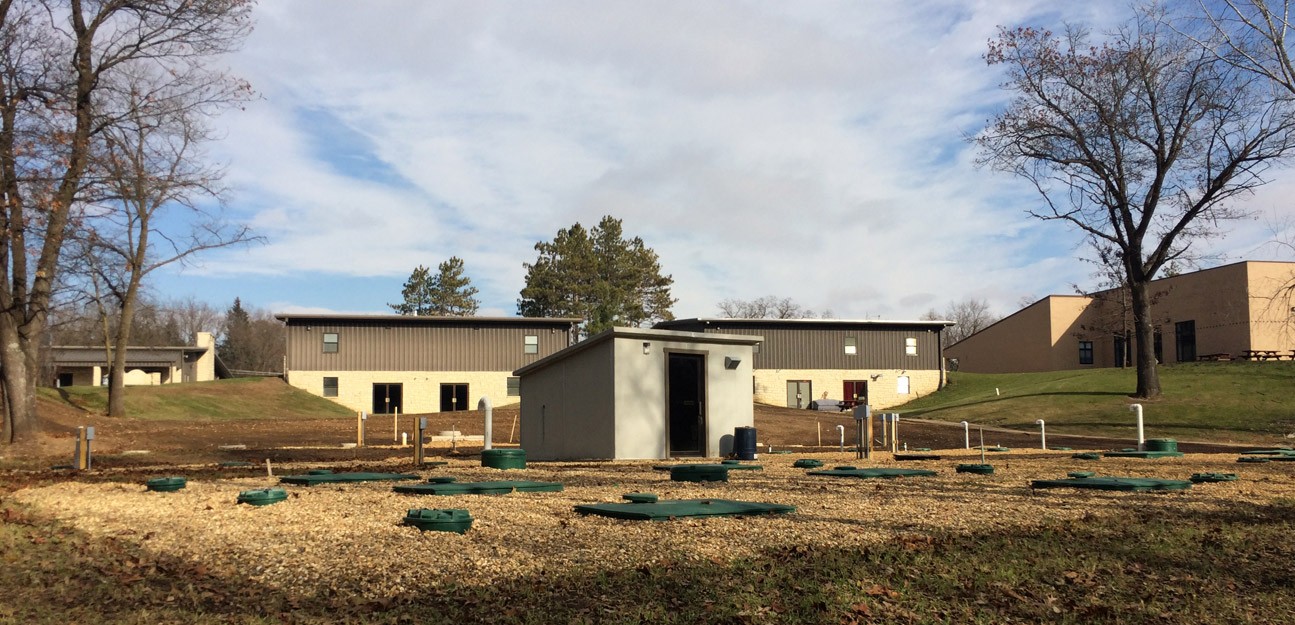 Project
Upgrade for a year-round camp
Iowa, United States
Installed in 2017

Challenges
Site near a sensitive environment
15,000 US gal/d treatment capacity
Surface discharge required

Solutions
Rewatec MBBR system
Ecoflo compact biofilter cluster
Rewatec UV disinfection
Camp Courageous is a non-profit organization that provides year-round respite care and activities for people with special needs.
The camp served 211 people when it first opened in 1974. Now, it has 25 buildings on 300 acres of land and hosts more than 9,000 campers each year.
The sewage treatment system that was originally installed on site could no longer cope with the camp's growing needs. Rather than scale back its services, Camp Courageous looked for a better way to treat its wastewater.
 
The challenges of camp sewer treatment systems
Camps, campgrounds, and RV parks present some unique challenges for wastewater treatment.
 
For this project, designers also had to take special care to protect the sensitive environment around Camp Courageous.
 
Wastewater flow rate
Calculating a project's flow rate is a key step in the design of any wastewater treatment plant.
 
This figure can be difficult to determine for camps, campgrounds, and RV parks because their flow rates fluctuate between peak use and low demand.
 
Camp Courageous sees flow fluctuations between the summer and the off-season. Flow rates also change in the winter, when more people visit the camp on weekends and holidays than on weekdays.
Wastewater strength
Strength refers to the concentrations of pollutants in wastewater. High-strength wastewater has higher loads of contaminants than low-strength wastewater.
 
Camps, campgrounds, and RV parks are often a design challenge because they see huge spikes in traffic during the summer. The wastewater produced during this time has greater strength than the wastewater produced during the off-season.
 
For Camp Courageous, peak use in the summer means extra food preparation and more toilet flushing. This results in greywater and blackwater with higher loads of:
 
fat, oil, and grease (FOG)
organic pollutants (CBOD5)
ammonium (NH4)
 
Surface discharge in a sensitive environment
Many wastewater treatment systems discharge effluent into a subsurface drain field (also known as a leach field).

This was not an option for Camp Courageous due to the conditions of the installation area. The most suitable alternative was surface discharge upstream of the Maquoketa River.
 
The river is near Pictured Rocks County Park. It is a haven for smallmouth bass and trout, and a prime attraction for tourists and residents. The need to preserve this ecosystem and protect public health was a top priority for everyone involved in the project.
Our solutions for camp septic systems
The engineering experts at Shive-Hattery chose to design two independent treatment trains with Premier Tech's proven technologies and support.
The final system has a treatment capacity of 15,000 US gal/d and a total surface area of roughly 6,450 ft2.
The configuration of each treatment train is as follows:
Primary treatment
Wastewater first flows into a primary treatment tank.
This tank removes trash and captures suspended solids, including fats, oils, and greases.
It then discharges partially clarified wastewater downstream.
Flow equalization
After primary treatment, wastewater flows into an equalization tank (pump station).
This system provides a reliable buffer against flow fluctuations by retaining incoming wastewater.
It then sends metered doses to one of two moving bed biofilm reactor (MBBR) treatment units located downstream.
Secondary treatment with Rewatec MBBR
Inside each Rewatec MBBR system, microorganisms grow on floating biofilm carriers and feed on organic pollutants.
This natural treatment process removes up to 99% of soluble CBOD5 and NH4.
Secondary clarification
After secondary treatment, wastewater flows into a clarifier tank.
This tank separates liquids from biomass to remove up to 99% of total suspended solids (TSS).
Clarified wastewater is then discharged downstream for additional treatment.
Effluent polishing with the Ecoflo compact biofilter
After secondary clarification, wastewater flows into a cluster of six Ecoflo compact biofilter units.
These units produce high-quality effluent by removing any remaining suspended solids and organic pollutants. The polishing process is passive and needs no energy.
UV disinfection
In the final step, wastewater enters a self-cleaning Rewatec UV disinfection system.
This treatment technology eliminates fecal coliforms (bacteria) and other pathogens by exposing them to radiation from two UV lamps.
After disinfection, the system safely discharges treated effluent into the Maquoketa River.
"Premier Tech was a pleasure to work with from design through installation, and, most importantly, support after completion. The results speak for themselves."
 
James Kurth
Facilities Director
Camp Courageous
Choose our expertise for your project
Our wastewater treatment systems and services give you solutions that last. Contact our team today to discover how we can make a difference for your camp, campground, or RV park.
 
---